I love how quickly the year falls into a rhythm. Perhaps it's because we have so many returning humans, but we're only on week 3 and already I feel like I've got a sense of how my weeks will go. It's comforting to pick things up and feel in flow so quickly; from conversations we're continuing, to knowing how to stock the fridge so that I can eat gluten-free and keep the hangry at bay, the beginning of this year has been pretty smooth sailing.
Mondays are shaping up to be one of my most intense days, as I'm committed to three different offerings, all of which require a different kind of intense energy. Basically I come in, eat breakfast (heavy on the protein, so I have brain and body energy to get me through the day!), do Set the Week and Spawn and then I'm off.
First is Acro with Yoni, at 10:30 in the morning. We usually start with some kind of tag – fan favorites include toilet tag, banana slug tag, and penguin and stork tag – before rolling into stretches, headstands and handstands as our warmup. The second half of Acro is where we do the counterbalances, lifts, and tricks you probably associate with acrobatics. Since I'm one of the larger humans (not as big as Ry but definitely bigger than the kids!) I'm often the base, which means my priority has been building up my strength so that the fliers can stand on me – or balance on my feet, or my shoulders or my back... In the months I've been doing Acro, my strength has already improved, and I'm excited to continue to get stronger – even on days like today, when I'm sore in muscles that I don't usually remember that I have!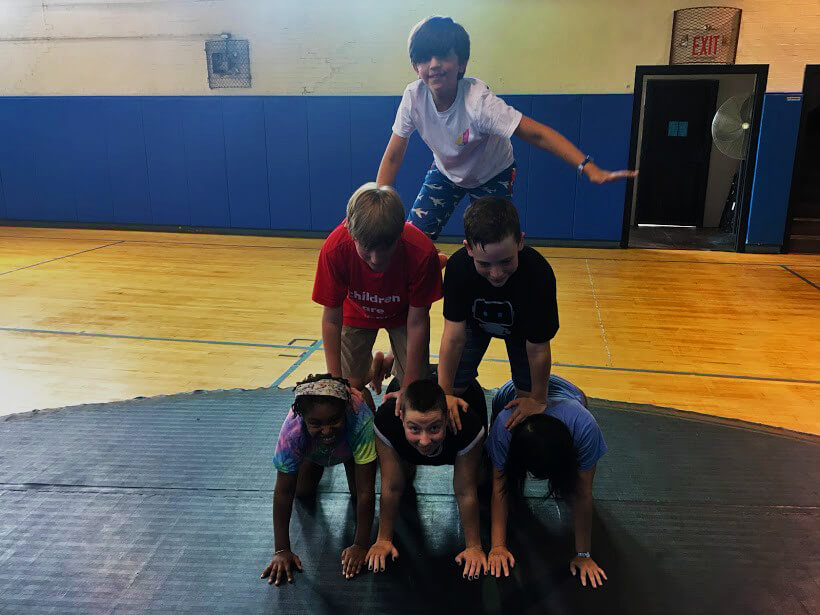 After Acro I have a free hour, during which I usually eat lunch and chat with people. It's necessary down time after so much strenuous physical activity, which I'm trying to prioritize this year so I don't burn myself out! Even though the running around portion of my day has ended, my Monday is far from over because next is Pathfinders!
Pathfinders is a a kind of scaled-down version of Dungeons and Dragons (though the rulebook is still MASSIVE) – a character-and-worldbuilding driven roleplaying game. I play Pan, a gnomic Bard, who is part of a ragtag band of outlaws who were roped into saving the world – after they accidentally upset its' delicate balance by setting the whole thing on fire... Our party consists of a halfling barbarian named Gloves (played by Iphy) with a packful of cheese and acid who's always trying to pick a fight, a dwarf Ranger (played by Erez) and his companion dragon Sparks, an elven Druid named Angelica (played by Serena), mourning the destruction of all the forests in this world, and a human Rogue (played by Xander) who's just trying to survive this world – and maybe acquire some gold along the way. Doug is our Dungeon Master (DM) and so far the world he's created has been super interesting – some kind of calamity destroyed all the nature, and all that's left is a Frostland and a Desertland. The two were separated by the wasteland...until we came along and (sort of accidentally) set it on fire. Now everything's gone to chaos, we got magically drafted by a queen to fix the mess we made (though so far all we've done is fight some goblins we were trying to bamboozle and get attacked by some pretty scary immortal bunnies...).
Finally, after Pathfinders I have writing time, which I'm still on the fence about keeping. Basically it's keep it or drop it from Monday entirely; there isn't really another place in the schedule it fits. I've got to see if this Monday's brain-burnout is going to be a pattern (in which case I'll see if someone else wants to hold Monday's writing time, or drop it if not) or something that will decrease as I build my stamina throughout the year. I would like to write a summary of the Pathfinders quest, and so ideally I'll be able to build up my endurance and do that. We'll see!
**
Tuesdays are my unstructured day, right now, which is lovely after the intensity of my Monday. Tuesday morning kicks off with Magic School Bus, which is SUPER fun. It's definitely dated (and delightfully nostalgic as a 90s kid) but the science holds up! We had a big crowd this week, and we watched an episode on pond ecosystems and another where the class investigated a rotten log. Good stuff all around.
The only other offering I'm scheduled to do on Tuesday is 30 minute writing time (where I started this blog post!). I'm still working out the ideal time for that block – initially I scheduled it at 10:00AM at the request of Hannah and Beth, but the last two weeks it was just me and Hugo on Tuesday morning and Hannah and Beth opted to write in another room (they're working on a collaborative story that I'm super excited to read!). So this week when we got to Writing Time and realized we were both a bit bummed about missing Magic School Bus, Hugo and I decided to reschedule. We did it at 12:30, which felt a lot better – we'll see if we decide to keep it there.
In the afternoon on Tuesday I wound up going to craft time with Chuck and started sewing a plushie friend with Ash. It's v weird and cute and nearly finished; stay tuned for pics!
**
Wednesdays open with another Writing Time (I'm doing so much writing and it feels GREAT) and then rolled into Geoguessr. If you don't yet play Geoguessr, you're missing out! It's a kind of puzzle game that drops you somewhere random in Google maps and then you have to use context clues to figure out where in the world you are. There are all sorts of more specific maps but usually we play the global one. It's very very fun, especially when you're playing in a group that all have different travel and language experiences so you can collaborate.
After Geoguessr I did some Duolingo (trying not to let my Spanish get so rusty... but it's hard to stick with. Bleh.).
After Geoguessr was Board Game Time with Doug and Ryan! This week we played Captain Sonar, an 8 player, real-time battleship-type submarine game that was unbelievably fun. Me, Doug, Even and Xander (and later Hugo, who swapped with Xander) manned the SS Burrito to two consecutive victories against Ryan, Chuck, Serena, and Demian (later Madelyn, who was visiting from Cottonwood and swapped with Demian after a round) on the SS Good Question. Rematch next week? I hope so!
**
Thursdays is field trip day! This week was my first field trip of the year; if you've read this blog at all in the past, you know that I LOVE field trips. It's hard to live in New York City, but the payoff is that there are near infinite things to do and see here, and going out to explore them with kids keeps New York magical for me.
Yesterday we went to the New York Hall of Science, in Queens. It's a long ride out there – over an hour on the train – but well worth it. We were intending to see the ecosystems exhibit, but it was closed because of this weekends' Maker Fair. We did get to spend a bunch of time in the light and optical illusions exhibits, and we saw a demo where boiling water was combined with liquid nitrogen which created a super cool giant plume of smoke and then froze the remaining water. Chemistry! I didn't get to check out the bodies and sports exhibit this time, but the people who did really enjoyed it. At the end of the day, we climbed trees in the rocket park. Good stuff all around. Pics!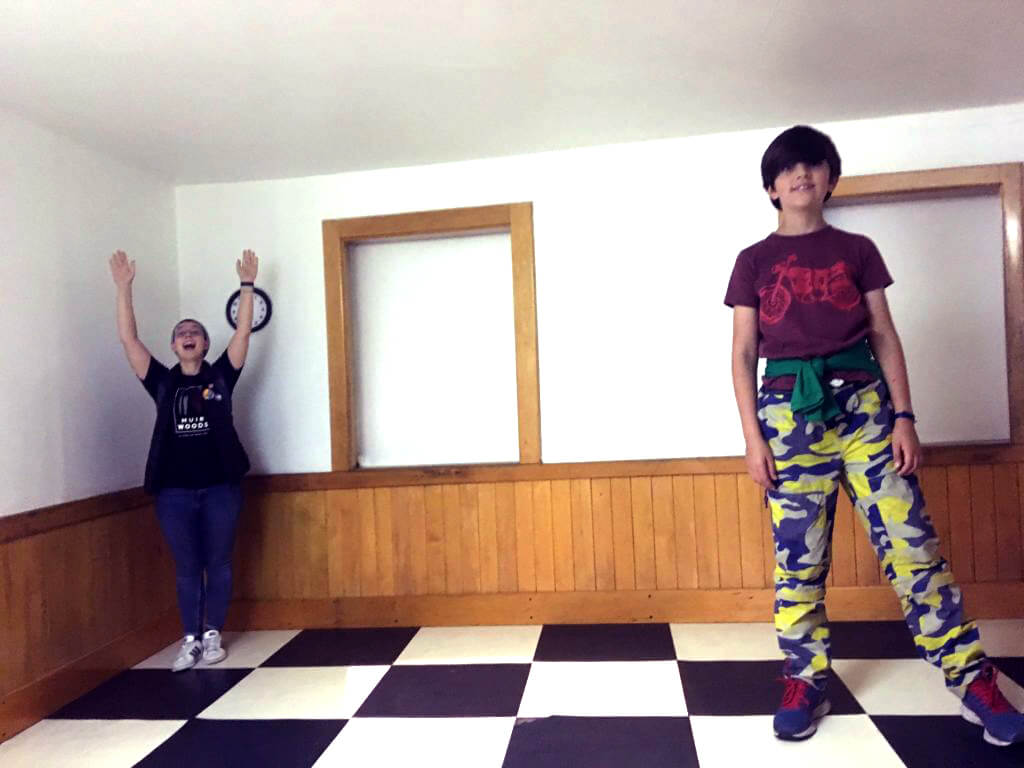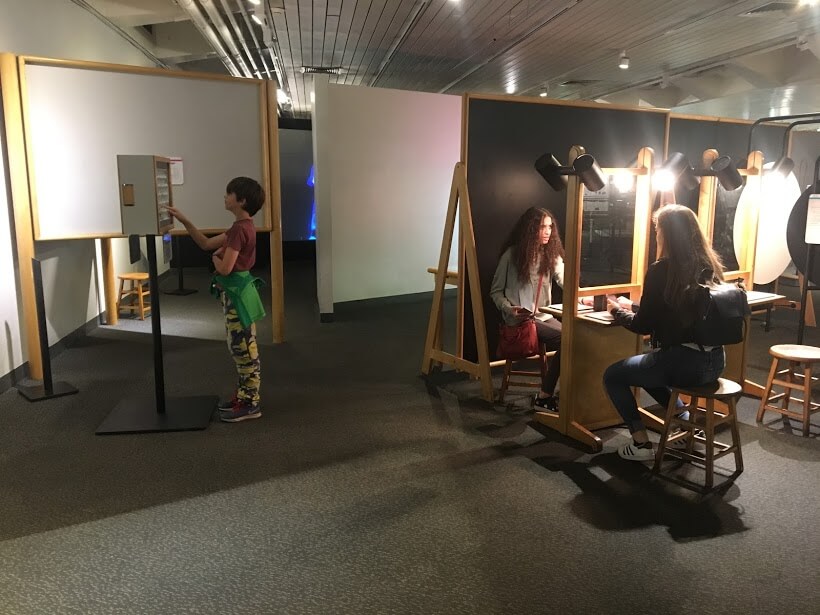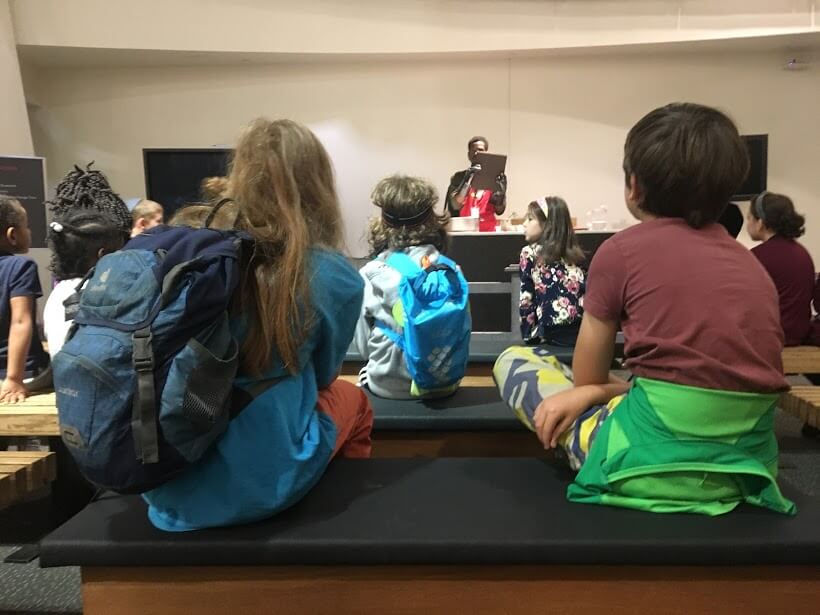 **
Fridays are shaping up to be the day of my favorite offerings: Portraits back-to-back with Anatomy and Physiology, with Focused Blogging wrapping up the day.
We do Portraits after check-in and change-up (which have been going super smooth so far this year!) and I'm obsessed. After drawing my first ever self-portrait last year, I went on a spree, painting and drawing over a dozen in a single month. I even made a large-scale one that's hanging in the Brooklyn Museum right now!
Last week in Portraits we did blind contour drawings, which were very silly and fun, as well as studies of noses, eyes, ears, and mouths (just full pages of disembodied facial features...). This week, we all picked photos of ourselves that we liked and drew grids over them. We then used the grids to help us with the spacing and proportion of our images; as we learned yesterday at the Hall of Science, our eyes are unreliable and wont to play tricks on us! Also, my face is very round. Here is a (creepy) progress photo: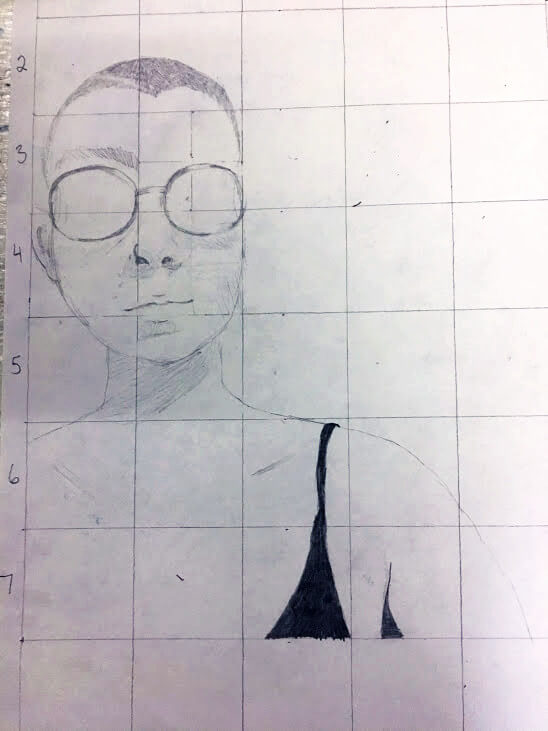 After Portraits we did Anatomy & Physiology – Beth requested it. We're following Crash Course, and practicing our note-taking, which means we have to do quite a bit of going back because Hank Greene talks so unbelievably fast. I'm super excited to learn about body systems – another fact that probably won't surprise longtime readers of this blog. (Check out Mind/Body/Body/Mind and Skin, the Bag You're In! for past musings on this topic).
Today there was a werewolves game after A&P that I didn't play, but did listen to a bit of (the village won). I did play some Machinarium, which is a suuuuuuuper cool puzzle game that Erez introduced me to earlier this week. It's very hard, and I like that.
And now, dear reader, it's blogging time and I've brought you up to speed on my week routine. How will it change? Who knows! I'm sure it will – right now, though, this is feeling good. I feel like there's a good balance between scheduled and unscheduled time that I want to prioritize keeping – last year there was definitely a point where I was feeling burned out because I was in offerings all day, several days in a row. Will I succeed? Stick around to find out!
---
This
blog post
was originally published on the Agile Learning Centers website on October 10, 2018 and has been reprinted by permission of the author.
If you enjoyed this article and feel called to give back to ASDE, here are ways you can support our work:
Donate money

Share our content with others! Click one of the buttons above to easily share on Twitter, Facebook, or email.

Consider becoming a Contributor for Tipping Points