This is the story of a twenty-year old man who had the benefit of many more life-opportunities than most of us have had. Luka not only had the opportunity to direct his own education and life, thanks to his parents, but he and his parents had a caring community of supportive people. This lifestyle contributed to his ability to find and pursue his passions at an early age.
For some years, before and after his wonderful home birth, Luka's parents were running a popular gelato ice cream cafe. As a baby, he was involved in every aspect of his family's daily life, including being present at their cafe. His parents usually carried him in their arms, as they had not yet heard of the baby-wearing sling. (There was no thought of placing him in a separate care facility!) He was co-sleeping at night, and during the day he slept in a small bed in the living room. His siblings that followed would sleep in the sling during the day, and at night the whole family slept together in two king-sized beds.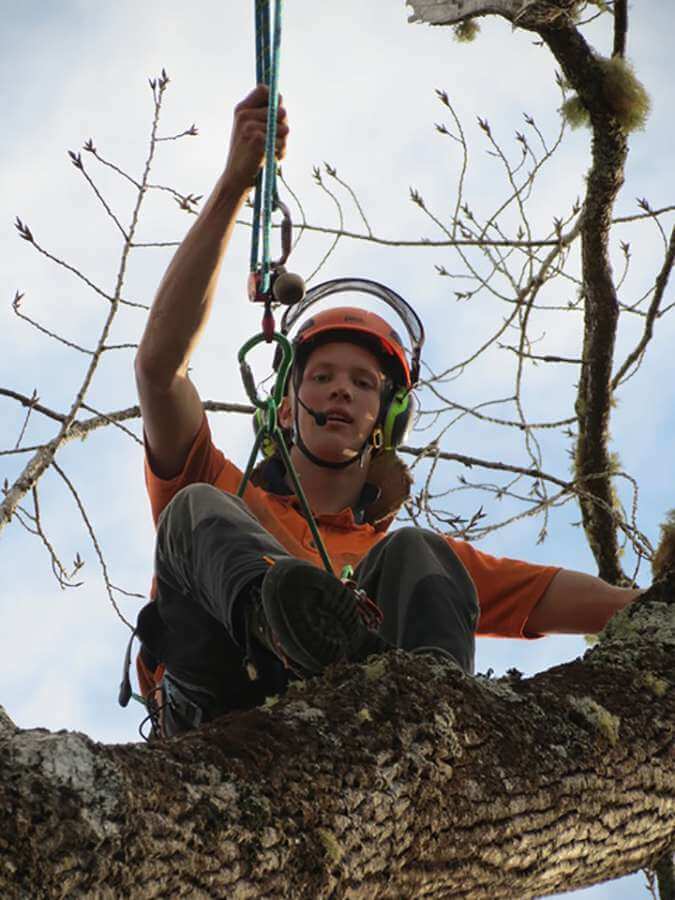 When Luka was five, the family sold the business and moved onto a small farm, accompanied by another young family. By this time I knew both families well. We were all living in the town of Nelson. I grew up in the rural area nearby and felt a pull to return there after years of living in an urban environment, on and off. I was also curious about the possibilities of living with these two families, after years of being in other communities at various times in my life. In particular, I wanted to see how this different way of raising kids was going to work out. I had had some regrets about the parenting of my own kids, many years before. So I followed those two families 18 months later.
Luka's parents who bought the farm already felt that it takes a village to raise a child, but they had no blueprint of how this would look. So the village has grown organically over the past 15 years, and at present consists of 7 adults and four kids. How we raise our children has been a vital part of our growing. We have two neighbouring families with four children being raised somewhat similarly to ours.
The Continuum Concept, a book by by Jean Liedloff was discovered by Luka's parents when he was four. It answered the question "What is the something we are missing in raising our child?"
Jean Liedloff spent two and a half years deep in the South American jungle living with Stone Age Indians. The back cover of a recent edition of her book summarises her findings well:
"The experience demolished her Western preconceptions of how we should live, and led her to a radically different view of what human nature really is. She offers a new understanding of how we have lost so much of our natural well-being and suggests practical ways to regain it for our children and for ourselves.
According to Liedloff, the continuum concept is the idea that in order to achieve optimal physical, mental and emotional development, human beings – especially babies – require the kind of experience to which our species adapted during the long process of our evolution. For an infant, these include such experiences as:
Constant physical contact with his mother (or another familiar caregiver as needed) from birth;
Sleeping in his parent's bed, in constant physical contact, until he leaves of his own volition;
Breastfeeding "on cue" – nursing in response to his own body's signals;
Being constantly carried in arms or otherwise in contact with someone, usually his mother, and allowed to observe (or nurse, or sleep) while the person carrying him goes about his or her business – until the infant begins creeping, then crawling on his own impulse, usually at six to eight months;
Having caregivers immediately respond to his signals (squirming, crying etc.) without judgment, displeasure, or invalidation of his needs, yet showing no undue concern nor making him the constant centre of attention;
Sensing (and fulfilling) his elder's expectations that he is innately social and cooperative and has strong self-preservation instincts, and that he is welcome and worthy."1
We have had many one-on-one discussions about the Continuum over the years. It keeps evolving, especially as another generation of babies arrived. Non-Violent (or Compassionate) Communication (as developed by Marshall Rosenberg) is another integral part of our community. The online Continuum network, and Scott Noelle's Daily Groove, were also an important part of those early years. Another major influence on the parents was the Diaper Free! book by Ingrid Bauer – which meant even more closeness between parents and baby almost from day one: Tuning into the baby's poo and pee signals, avoiding the need for those diapers. Trusting that the parents can read these signals.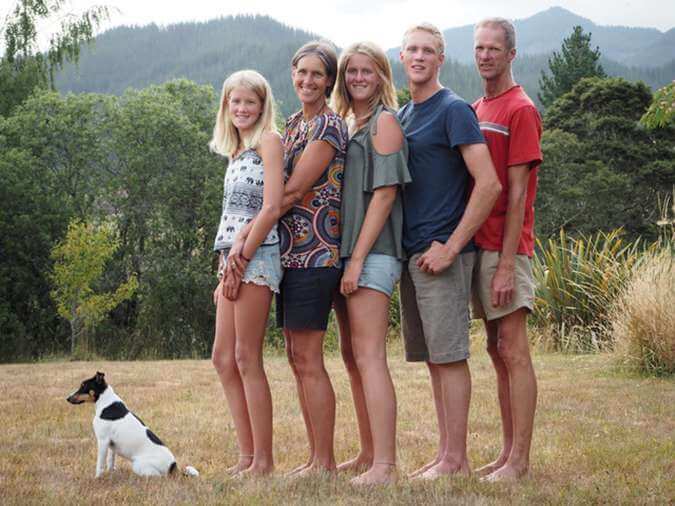 Luka's parents had never heard of homeschooling. They were immigrants from the Netherlands, and homeschooling is forbidden there. But the family that first moved here with them had started with unschooling, or Self-Directed Education (SDE). Their daughter, 5 years older than Luka, had been to school for a year. The parents didn't like what was happening to the girl (Shanna) and took her out of school. Luka's mother Irma remembers the change in Shanna when they did this, which was the seed for their SDE approach to Luka.
So what does life-learning, or SDE, look like in our community? There has never been any imposed structured learning here. From the womb onwards, our kids are experiencing daily life as it happens. They are not the center of attention, but we are all very much aware of them, especially the parents. We are there for them when they need us. We give them guidance and encouragement where appropriate. From a very young age they learn to 'decide' What do I want to do now? Who do I want to be with? etc. This is unlike the child-care/kindergarten/school experience, in which many of these decisions are made for children by adults. At the same time, especially in their early years, the parents will be very clear about many aspects of their lives, seldom giving options like, Do you want to do this or that? Minimal explanations about why. Rather, by their actions, sometimes with words, This is how or when we do this.
We do not impose most aspects of what the rest of society considers 'normal' upbringing. For example, these kids have never been told to say "Please" or "Thank you." To me, the moment you tell a child to do that, you are teaching them to be hypocritical. Even telling a baby to smile. So what happens when you don't do that, which in NVC terms is a demand? What happens when you let kids be themselves? In Luka's case, I still don't hear him using those two words. That doesn't mean he doesn't express the feelings behind please and thank you. Gradually, from about age 17 or 18, he will express them in his own way, but seldom before then.
When I take his 15-year old sister out to some kind of show, she still does not express any kind of appreciation, even when we have spent 3 or 4 hours together, and I have spent a considerable amount of money. This can still be a challenge to me, but that is nothing compared to her saying something that I know is not coming from her heart. Authenticity really matters to me, and to all of us! Like when she smiles at me I melt, I know that it is genuine, incomparable to a million thank you's!!! When I took out her 13-year old sister recently she did express some kind of appreciation, the first time for her.
But kids are not stupid! From a very young age they learn that out 'in the world' it pays to play the Please/Thank you game. It only needs one or two shopkeepers to say, What is the magic word? when they walk into a shop and say, I want that sweet – to learn that that's what you say out there! And of course Luka has been doing that for years, as he went into the work/business world.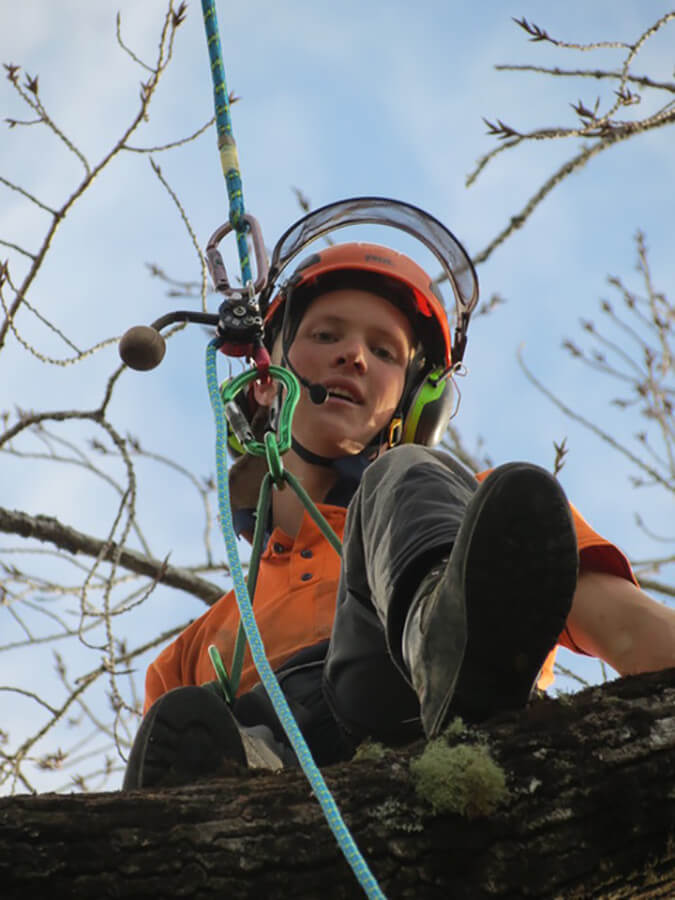 Life is learning. For years I have watched Luka's parents include the kids from a very young age in so much daily life, like discussions around money and visiting the accountant. As Scott Noelle pointed out to me years ago, be creative with your family, including the challenges. Recently this family bought an electric car. The parents were going to a dealer to discuss the pros and cons of an electric car, bargaining, etc. Do we take the girls (13 & 15) or will they be bored? Of course we'll take them. It was fascinating for them too.
These kids have had enormous trust put into them from a very young age, like handling a sharp knife from age one. When they started driving a vehicle around our small farm, I never heard a "Now be careful," or "Don't do this or that." They have learned these skills by watching their parents or older siblings, and by being given simple, clear instructions, and trust. Of course they can do it!
It wasn't always plain sailing. Occasionally Irma would wobble: Are we getting it right? How will Luka turn out? Mostly I, or someone else outside the immediate family, would reassure her: "Yes, you're doing fine!" I loved watching this process of the parents finding their pioneering way of raising their children, the response in the kids, and the rest of us supporting this.
Luka was quite self-focused for a couple of years (13-14 years old), when he was finding himself. Computer games seemed to become an obsession. At this time there was almost no connection between him and me, or most others here, apart from his family. Would he ever be social? What did the parents need to do? They wondered about the games becoming addictive. After discussions with Luka they agreed on a maximum number of hours per day on the internet, and this agreement was discussed and reviewed several times over the following 3 years. This was probably the only significant intervention he had in his teenage years.
They also started waking him at about 10:30 am as he could easily sleep till lunchtime. The parents had a real concern about his physical and mental health, as he was getting so little daylight. But when he started volunteering with the arborist, surprise, surprise, he would suddenly be out of bed by 8am or earlier.
So our kids have a lot of freedom and autonomy, but they are also given very clear guidance when the parents feel it is necessary. While each of them is constantly exploring, experimenting, risking – each in their own way, at their own pace.
Irma would joke, "He could climb trees before he could walk." So it is not surprising that he was a professional arborist by age 18.
From age 6 onwards Luka was present at a number of sheep and cattle killings here, with an outside home-kill butcher. So he had familiarity with animal killing being okay. (He has been butchering our sheep from about age 14)
We had an older guy living here in our early years, who used to shoot wild turkeys occasionally with an air rifle (he happened to be an American). That is probably where the idea to hunt first came from for Luka. He bought an air rifle from his homeschool money (from the Ministry of Education) when he was 8, though he did not have much success with it. He bought his crossbow online, when he was 12 or 13.
I still clearly remember after he had been hunting a few times, when he brought home the first wild goat he had killed (age 14). What a homecoming! For me, he had created his own rite of passage into manhood, though we didn't really talk about it like that. When he was old enough to own a rifle, he purchased one and still regularly brings home goats from the hills nearby, thus providing meat for us here.
One consequence of his hunting skills was when he was invited as a volunteer to help with security at the Luminate Festival. This is an 8-day summer festival of music, performing arts, workshops etc in the mountains nearby, with about 3,500 people attending. The invitation came from the father in the other family that originally came here, who was already involved in the festival. Normally, volunteers must be at least 18 years old, Luka was 16.
There is no fence around this festival, and they needed help to patrol the perimeter for people not wanting to pay the entrance fee. And particularly on the night shift, which Luka would probably be good at, running through the bush. He started at 4 hours, but after 2 days, he was helping almost 24 hours, also in other areas. He loved it!
At the second festival Luka was in charge of security under one other person, who has now handed over about half of security totally to him, for the forthcoming festival this summer. Before that second event, the festival paid for him to do a security course in Wellington. He was responsible for vetting and supervising 60 security volunteers. Luka had also invited his mother to become a volunteer, in another part of the operation.
This year the two of them are also responsible for vetting everyone applying as volunteers.Last time there were 1800 applications, of whom they will select about one-third.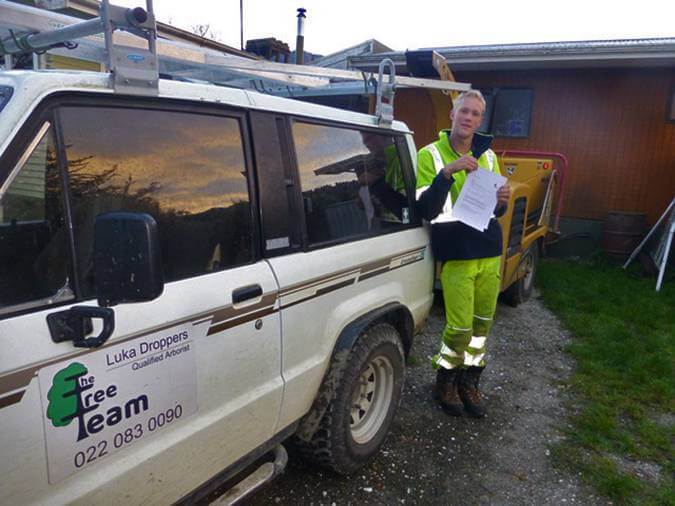 The kids in this community learn to relate to adults as equals from when they are very young. They are not bound by peer pressure and authority figures, which are common in the classroom. For example, when Luka was 14, his parents introduced him to an arborist who was in his sixties. Luka started to work with him, and they became close friends. Many people in the surrounding district have commented on how much they appreciate Luka as a person. This is on top of their appreciation for his arborist skills, as he is often the first to arrive at a tree across the road, and his commitment to his volunteer fire brigade work, that he has been doing since he was 17.
Luka runs his business from home, and continues to be supported by his parents, when he needs them. For example, his mother will sometimes help him write important emails to a client.
Because of his very sizable income, which he doesn't want to see devalued on a bank account, he has embarked on a house building project in our community. This includes taking out quite a large mortgage as well as dealing with bank managers, the local council, architect, and builder.
In a sense, I don't see Luka as being particularly "amazing". The main point of my story is to show that he has had made the most of the opportunities he has had, and that has shaped who he is now at age 20. He has had the benefit of parents who are clear about what they want, and who are mostly very okay about who they are themselves; minimal intervention from society, especially around schooling; and living in a totally supportive community.
People sometimes say, "Oh yes, but you're lucky, living in the country, with all the advantages of that." Yes, we are blessed, but if this land couldn't have happened we would have found a way of creating a similar community in a different situation or location.
---
An Interview with Luka
This interview was originally conducted by Inge Cornish, editor of Tasman Home Educators and was published in their newsletter on September 26, 2017. It has been reprinted here with their kind permission.
"You should do something you enjoy, then you never work a day in your life."
Luka has just been out fishing on a rare lovely sunny Saturday morning when we meet for a coffee and a chat. We're talking about the Maori language for a while and the elections that are being held today. He's ready to go off to submit his vote after our interview. He's read up on everybody in the election and listened for hours to the RNZ National radio on his way to work.
Inge: Can you tell us about the tree team?
Luka: I started working when I was 15. I always loved climbing trees. I asked an arborist if I could come along and have a look at his work. First I started with tying of knots, which I had already learned at the scouts. Then I started climbing. I moved on to do the chainsaw training and then I gradually did more and more. I always liked doing it casually but of course eventually I was asked "Can you work on Monday?, then also on a Tuesday?, oh, eh maybe Thursday, and Friday this week and .... Saturday", so then soon it became full time. I heard someone say: "You should do something you enjoy, then you never work a day in your life." Of course it is impossible to find a job that is great every day, but I do love being an arborist.
I started my own company when I was 18 years old, the first invoice was sent out a year ago. I work a lot with other guys that all run their own business and about three labourers that I can call in when they are needed. I set up my business myself, it is not that difficult. An accountant runs your books for you and takes care of the IRD(Inland Revenue) and taxes. ACC (the state Accident Compensation Commision) will find you and they make sure you are on their books. You take care of insurance, find yourself a trading name, and away you go. For a sole trader such as myself the process is pretty straightforward.
I'm confident that there will always be work for me as there are not enough climbing arborists in New Zealand. I've seen people from overseas who are offering themselves on Facebook and they seem to get offers straight away. They even help to settle in and get housing. Of course they would have to prove that they have some sort of qualification.
I got my qualifications through working in an apprenticeship rather then doing one of the offered courses running at the Polytech. Going to Polytech would mean I would have no work experience until after I finished the course. The advantage of training on the job is that you are able to get the work experience, and get paid at the same time. You just do your training bit by bit and then you find someone who is qualified to assess you, who can sign off the skill you have been working on.
Inge: Have you been home-schooled all the way through?
Luka: Apart from a short spell in a Steiner Kindergarten, I have been home-schooled. Kindy was fun, lots of sourdough bread making and playing.
Inge: What would a typical day for you look like?
Luka: My parents were unschooling. I'm not sure if I remember what we did all day. I never did the 'sit down stuff'. I do remember hanging upside down on the couch with a math book that was 4 years above my age.
Until I was 12 years old I had a little mate Yerren who was 8 months younger than me. We were always running around, sometimes helping our parents if they were doing something we deemed interesting. I also had another good mate who lived right next to us. He went to school during the day, but as soon as he got home again we were off.
I did scouts and I loved it. Some home school kids stand out and they don't fit in because of their language. Their parents bring them up at home without any swearing. So going out in the world, like to scouts or into a workplace situation exposes you to other people and other language.
At home, computers were introduced, and also a screen time limit as my father believed that if you paid for a programme they should be able to protect it and lock it, However Google is a great way to find your way around anything. I learned that any screen lock can be bypassed and I enjoyed more computer time at night. At least the 'lock' sort of did what my parents wanted as I did get out during the day.
Computer and internet were instrumental for my education. You can learn anything on the web. On the web you also get exposed to other people. That's how I learned to type, as I was chatting to other people. I still have friends in Australia.
I learned to read late. I was ready to learn to read when I was 10.5. I really wanted to read a book I liked that my dad was reading to me. He was going too slow, I was non stop bugging my parents to read, but they were not prepared to keep reading at night time. When they found me at 6 a.m one day they assumed I was up early, but I had read through the night as I wanted to finish my book.
I have two younger siblings that are also home-schooling and they started reading much earlier then I did. The two younger ones are closer in age, (only two years apart), and they hang out together a lot. So when the oldest one started to read, the younger one wanted to keep up.
I learned to write fast through games like Minecraft because 'if you stand still too long chatting, you die'. So you have to learn to type fast.
My spelling is still not great and my handwriting is atrocious. I'm slow at writing and it is not tidy, maybe because I haven't done it enough and it has never interested me. My younger sister loves writing, she writes a page a day, but her maths skills are questionable. I also find I don't have much need to write. Most forms and things you write are done online/on a computer.
When I'm secretary for the Fire Brigade, [Luka is a volunteer fire-fighter since he was 17 years old], I just use my phone to take notes and then I add to that onto the computer.
I do like words. Me and my sisters love playing Codenames2, which is a table-top game. We just sit there opposite of each other and ponder over different words...... critter... .
[Luka is still bilingual, speaking Dutch and English, he feels that this skill is probably thanks to his home schooling.] It is OK to be able to speak two languages even though Dutch is not a very useful second language. His mate Gijs, who lived in the Netherlands until he was 12 years old, went to school but he hardly speaks any Dutch now.
My friend Yerren was home-schooled until he was 12 years old and then moved over to Takaka. Yerren always loved learning, he taught himself to programme computers. When he moved to Takaka there weren't any home school kids his age so he went to school. He didn't really like it at first but kept going back. He was quite bored and skipped a class. He's in university now on a paid scholarship as and one of the youngest students there.
Inge: What are your further interests and future plans?
Luka: I volunteered at the Luminate festival on Takaka hill because Yerren helped his father programme the cash register and run it during the festival. I started helping with the security of the festival and really enjoyed it. The year after I was asked to draw up a security plan and run the whole security of the festival. I'll probably do that again next year. It's a great family friendly festival, as long as they'll manage to keep the alcohol out.
I've recently considered a career with the Police. I have just done the recruitment process and I got accepted. I had do to several tests and also a literacy test. They just want to know if you can read and write. I went along on a few 10 hour shifts and I saw everything, the brawls etc. But then after your shift you have to start filling out all these forms. Nothing is done online, so I would find that very frustrating. I found it very inefficient. I was also not impressed wit their communication. They called me up for a training, but there were lots of last minute changes. One training got cancelled due to bad weather, I turned up and nobody was there, by the time I finally managed to contact someone the weather was fine, but they had "forgot" to send me an e-mail. It was rescheduled for the following day, but for me it meant a whole day missing of my work and no pay. I have decided to stay an arborist. I really enjoy the work and enjoy the running of the business side. I think I would try to reorganise the way the police works all the time and that wouldn't work.
Inge: If you ever were to have any children, would you home-school them?
Luka: I might, but home-schooling only works if both parents are at home or only one of them works part time.
---
1 – Liedloff, Jean.
The Continuum Concept
, Addison-Wesley, 1985.
2 – In Codenames two rival spymasters know the secret identities of 25 agents. Their teammates know the agents only by their codenames.
In Codenames, two teams compete to see who can make contact with all of their agents first. The spymasters give one-word clues that can point to multiple words on the board. Their teammates try to guess words of the right colour while they are avoiding those that belong to the opposing team. And everyone wants to avoid the assassin.