A friend introduced me to Rachel in 2016. I had heard rumors of the Fifteenth Street School, the first Summerhill inspired school in New York City and was excited to meet one of their founding teachers. Rachel and I immediately hit it off as friends and would meet semi-regularly in coffee shops in downtown Manhattan to talk about education and life and the book she was writing on the Fifteenth Street School. It took her a decade to write the book, pieced together from her own memories and from journal entries from one of the other founding teachers, her late husband Wilbur.
The book came out this June, and we published an excerpt from it on Tipping Points just two months ago. I had lunch with Rachel soon after to celebrate the book, and she gave me a copy, signing it off, "Onward! Rachel."
What proceeds is an obituary, kindly put together by ten of Rachel's closest friends for this publication: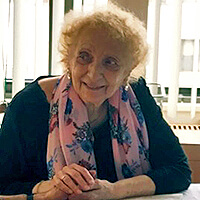 Rachel Winston Rippy, an exemplary teacher of children and adults, died on August 27, 2019 at the age of 89. Born in Antwerp, Belgium, Rachel immigrated to the United States in 1942. She graduated from the University of Chicago and later Bank Street College of Education.
After teaching in a variety of settings, Rachel and her husband, Wilbur Rippy, taught from 1964- 1968 at the Fifteenth School, which is the subject of her recent book, Voices of Children: The Story of the Fifteenth Street School. There, she facilitated children's free exploration and acted as a catalyst for their creativity. Rachel made the visual and verbal arts accessible means of expression for children. She was adept at eliciting and recording children's ideas and enabling children to represent their thoughts using materials she supplied and that they found. Rachel was an artist herself. Her work and Wilbur's are in the collection of the QCC Art Gallery/CUNY and are also in private collections.
After leaving the Fifteenth Street School, Rachel continued in this spirit at the Bank Street College, where she advised student teachers, led workshops in which teachers and prospective teachers experimented with their own ideas in the visual arts, and later participated in the Museum Education program. In all of her work, she provided sensitive support and stimulated the best work in others. Her unique model as one who appreciates, encourages and trusts learners continues to inspire her many former students, relatives, and friends.
In addition to being an educator, Rachel was engaged in many activities. She helped to organize and run two clubs, a "salon," named after the famous German-Jewish salons of the nineteenth century, and a writers' group, which critiqued members' essays, articles, and short stories.
Rachel had an extraordinary ability to convert strangers into best friends. She was a kind person, who helped many friends through difficult times. As she lay in a hospital bed facing death, her face lit up with joy when friends visited her. Rachel enjoyed her friends, and these are the people who are now paying homage.
Erica Alliston
Joseph Baez
Cynthia Graae
Michael Krieg
Raisa Kutchment
Zohra Lampert
Ann-Marie Mott
Sandra Sanford
Bill Schurtman
Rachel Theilheimer