The Alliance: Diversity is our strength
Bringing together the voices, experiences, and practices of the SDE movement
We believe in children's freedom. We believe that children are extraordinarily capable — burning to educate themselves when we provide the conditions in which to do so. We have varied views on ways to provide those conditions, but when it comes to children's freedom, and their ability to educate themselves without coercion or imposed teaching, we are united.
To succeed in this movement for children's civil rights, we need to work together, and that is what the Alliance for Self-Directed Education is all about.
When we created this organization, we deliberately chose to call it an alliance because we believe that what we have in common is more important than the differences in our approaches to SDE.
Part of our mission is to provide a context for SDE practitioners of every flavor to lift each other up, transcend our differences, and work together toward our common aspirations. When we join in an alliance, we are committing to making space for differences. The Alliance for Self-Directed Education is committed to working in partnership with all of you.
Thank you for the diverse ways you show up and add to this movement.
Thank you for your perspectives, thoughts, and contributions.
Thank you for living and sharing your self-directed lifestyle.
Thank you for being a part of this Alliance.
Learn More...
Peter Gray, president of the ASDE board, recently shared a video describing his thoughts on the unity of our movement: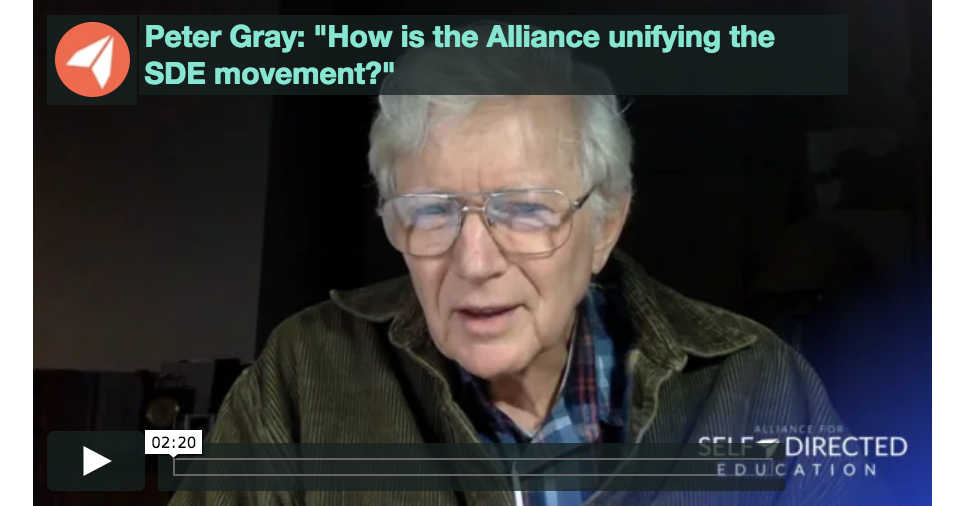 Watch a thoughtful video presentation by Alliance member Je'anna Clements, responding to an article that recently generated some controversy, here.

Join the related conversation Je'anna started in the ASDE member forums, here.

Read a recent Tipping Points article about an ASDE member's experience with different SDE approaches: