Jammin' with Shilpa Jain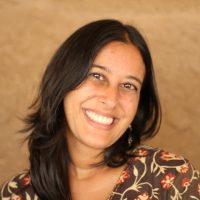 Shilpa Jain is a talented facilitator, author, and activist for alternatives to schooling around the globe. She worked as a learning activist for ten years with Shikshantar: The Peoples' Institute for Rethinking Education and Development, based in Udaipur, India. Currently she lives near San Francisco and is the Executive Director of YES!, which provides support for passionate young social change leaders. Check out the YES! website here to learn about "JAM!" workshops for young visionaries.
Are you curious about the SDE movement in India and other parts of the world? Applying SDE principles to adult education, organizational development, and social activism? Facilitating transformational experiences for teens and young adults? Shilpa has a wealth of experience and stories to share, and she is the subject of next week's "Ask Me Anything" (AMA) event:
ASDE members are invited to post questions for Shilpa on Thursday, June 14th, from 12noon-9pm/ET (9am-6pm/PT). On Thursday morning we'll send you a reminder with a direct link to the AMA page in our member forums.
BTW, our last AMA guest, Pam Laricchia, shared an abundance of wisdom about unschooling, which ASDE members can access in the AMA archives:
www.self-directed.org/forum/ama/
Join the Alliance for Self-Directed Education!
The online magazine from the Alliance for Self-Directed Education, designed to amplify and celebrate the voices of our movement.
Featured Topics:
Husband against SDE — "My husband and I have just had another argument about SDE. He thinks that it's failing because he isn't seeing results... Knowing that my life partner disagrees opens up this space in me for the self doubt to creep in."
SDE Terminology — "Here are some of the decisions that the ASDE organizing team has made about ... using terminology to advance our mission and change the way people think about education, schooling, and learning."
Africa's first Sudbury-inspired democratic SDE school [UPDATE] — "Riverstone Village rented a big old house on an acre of ground, officially opened in Jan 2018, and we're thriving -- though it's intense and non-stop work!"
News & Announcements Forum: